The photos were taken on February 13, 2000 - 1:30pm.
The shaft area is located approx 15 meters from the center area of the east side of the Great Pyramid. There is a one meter iron fence surrounding the top of the shaft on all four sides. This fence is elevated on a stone ledging approx 12 inches high. To look over the fence and down into the shaft, you need to step up on the concrete ledge. Or you can peer through the bars of the fence.
The shaft is actually two shafts, or has two halfs, divided by a center rough 'wall' which does not reach to the top of the shaft. The center wall runs east/west. This can be clearly seen in photo "shaft1.jpg". The shaft is approx 5 meters deep at current depth. Wind-blown sand covers the remainder depth. Wind also blows in debris and trash, which is removed from the area frequently. The glass soda bottle on the center wall can give a visual reference of the approx size of the shaft and within.
The photo briefs are as follows:
Facing east: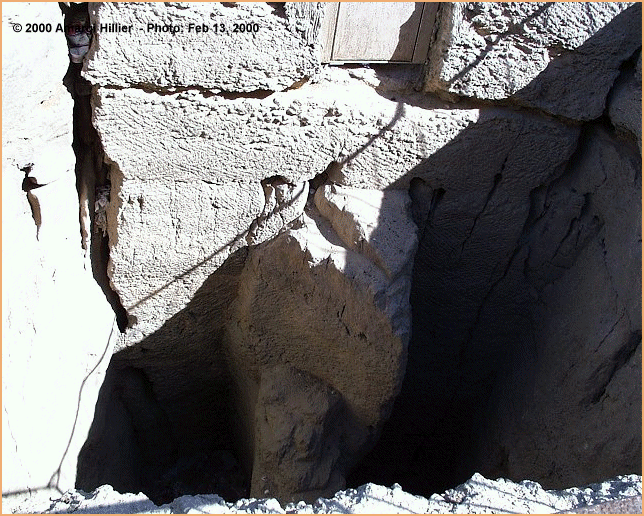 Under the iron fencing on the east side of the shaft is a small
metallic door (modern). Center wall runs east/west.
Facing south: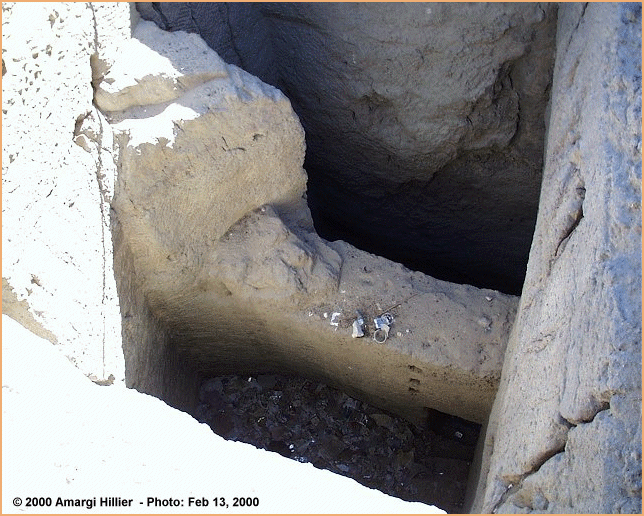 In the north/west corner of the shaft is what looks to be stone steps or stairs....
leading south into a small opening in the center wall, which continues to the southern half of the shaft.
3 niches or 'cutouts' can be seen on the north side of the center wall.
There are numerous shafts on the plateau with steps going down them.
Facing west: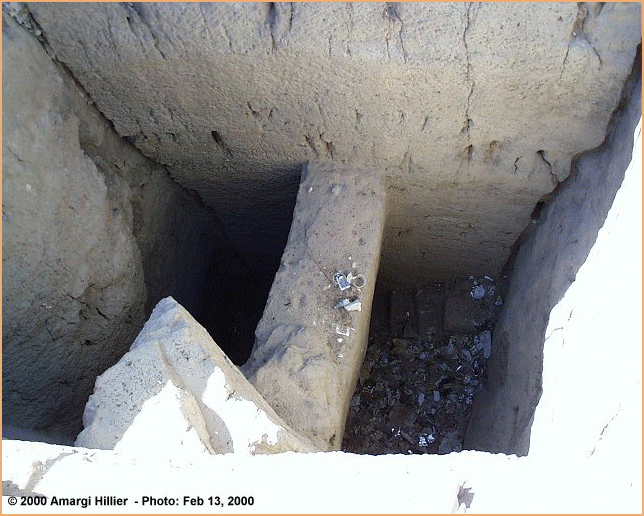 This photo gives you a better view of the steps. You are looking
almost vertically down. If you lifted your head up and looked
horizontal, you would be facing west at the east side of the Great
Pyramid.
Interesting groove marks, niches, criss-cross patterns and other things can be viewed in the walls and stone of this shaft.
Amargi Hillier
Photographs Copyright 2000 Amargi Hillier
Our Thanks to Amargi for taking these photos at such short notice, even a powercut did not stop him!